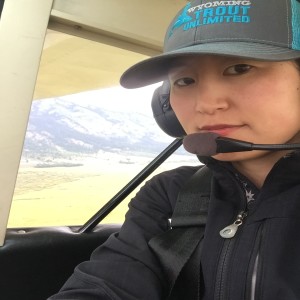 Saturday Jun 11, 2022
178 - Talking Trout Unlimited Stream Restoration in NW Wyoming with Leslie Bahn Steen
This week Kadie chats with Leslie Bahn Steen, the Northwest Wyoming Program Director for Trout Unlimited. Listen in to hear about how a sea kayaking expedition spurred Leslie's interest in fisheries, Leslie's current stream restoration work in the Snake River headwaters for Trout Unlimited, and how she manifested her dream job in Jackson Hole, Wyoming. 
If you would like to get in touch with Leslie, you can email her at Leslie.Steen@tu.org. Check out the Spread Creek project and more of Leslie's work in the Snake River Headwaters with this ArcMap (the Spread Creek project is on tab 8). You can also watch the film Leslie mentioned on the Tribasin Divide on Youtube.
If you want to get ahold of Kadie, you can reach her @kbheinle on Twitter.
Get in touch with us!
The Fisheries Podcast is on Facebook, Twitter, and Instagram: @FisheriesPod 
Become a Patron of the show: https://www.patreon.com/FisheriesPodcast
Buy podcast shirts, hoodies, stickers, and more: https://teespring.com/stores/the-fisheries-podcast-fan-shop
Thanks as always to Andrew Gialanella for the fantastic intro/outro music.
The Fisheries Podcast is a completely independent podcast, not affiliated with a larger organization or entity. Reference to any specific product or entity does not constitute an endorsement or recommendation by the podcast. The views expressed by guests are their own and their appearance on the program does not imply an endorsement of them or any entity they represent. Views and opinions expressed by the hosts are those of that individual and do not necessarily reflect the view of any entity with those individuals are affiliated in other capacities (such as employers).